1891-93         Richard A. Sheehan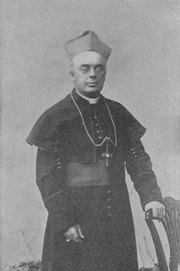 Canon Sheehan was appointed Roman Catholic Bishop of Lismore & Waterford on 15 January 1892 and consecrated on 31 January 1892. He retired as Society President in 1893. Bishop Sheehan died in office on 14 August 1915.
1894-1914     Robert Day, Jr.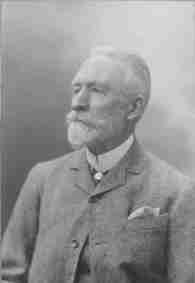 Born 12 January 1836 in Cork. Married Rebecca Scott also of Cork. Robert took over the family business from his father, Robert, Sr., and also ran his wife's family business on the death of his father-in-law, Robert Scott. Day was an active member of the Society and often displayed items from his private collection to members. He also published many papers in the Journal. It can be seen from newspapers that Day also spoke outside Cork, particularly in Ulster where perhaps he had business connections. Robert Day died on 10 July 1914 before his wife who died seven weeks later. For further information about his life, see Margaret Lantry 'Robert Day: businessman and antiquarian', JCHAS 119 (2014), 1-22.
1915-1938      James Grove White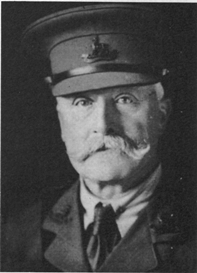 Born 1852 in Melbourne, Victoria, Australia, to Major Hans Thomas Fell White and Amelia Carey. He married Constance FitzGibbon in 1880. She was niece to The White Knight, Maurice FitzGibbon. They had four sons and a daughter. After Constance's death in 1926, he married Louie Thom of Scotland in 1928 (she died in Scotland in 1964).
Grove White was a career British Army officer. He and his eldest son Pierce both served with the Middlesex (Duke of Cambridge's Own) Regiment during the Boer War. The Colonel also served during WWI. On retirement in 1903 to Kilbyrne, Doneraile, in North Cork, he was Deputy-Lieutenant and High Sheriff (1910) for County Waterford. He was also Justice of the Peace and a member of Cork County Council (1925-28). As an active farmer, he was much respected. He was a founder member of the Doneraile Golf Club and took part in many local activities. There is no doubt that he contributed much to the Cork Historical & Archaeological Society, both as a founder member and taking an active part in its events. Besides his monumental four-volume work entitled 'Grove White'   Historical and topographical notes, etc., on Buttevant, Doneraile, Mallow, and places in their vicinity (1911-24), Colonel White contributed many other items to the Journal. 'Grove White' is an compendium of information that includes photographs (many of which were taken by the author) and nuggets gathered from many sources including the PRO and Trinity College Dublin; happily most of his research was carried out before the burning of the Public Record Office, Dublin. Colonel James Grove White was elected in 1917 as President, a role he held until his death twenty-three years later on November 2nd, 1938.From 1930 he lived with his wife Louie on Cyprus, but he kept up strong connections with home by regular visits. During this time he formed what is now known as the Grove White collection, which was donated to the Cyprus Museum by Mrs Grove White in 1942.
M. H. [probably Michael Holland] wrote the obituary that appeared in the Journal on Vol. 43, No. 158 (1938), pages 130-131. Information about Grove White's time in Cyprus can be found in Robert Merrilees 'A model curator and a terracotta model dagger and sheath from Early Bronze Age Cyprus in the British Museum' in Thomas Kiely (ed.), Ancient Cyprus in the British Museum: essays in honour of Veronica Tatton-Brown, page 51 [link]
– Margaret Lantry, February 23, 2017
1939-41         Dr Eaton Waters
1942-46         Michael Holland
1947-49         Seán Ó Coindealbháin
1950-52         John J. O'Shea
1953-55         Prof. Séamus Pender
1956-58         Denis O'Donoghue
1959-61         T. A. Buckley
1962               Prof. M. J. O'Kelly
1963-64         Dr J. B. Kearney
1963-66         C. J. F. MacCarthy
1967-68         Sheila A. Murphy
1969-70         Dr D. B. Buckley
1971-72         Dr E. M. Fahy
1973-74         Diarmuid Ó Murchadha
1975-76         Jeremiah J. Ahern
1977-78         Prof. M. J. O'Kelly
1979-80         V. Revd Dean Maurice Carey
1981-82         Úna Riordan
1983-84         Walter McGrath
1985-86         Prof. Padraig Ó Riain
1987-88         Kenneth Gordon
1989-90         Philomena McCarthy
1991 -93         Prof. John A. Murphy
1994               Gearóid Ó Crualaioch
1995-97          Prof. Peter C. Woodman
1997-99          John Sheehan
2000-01          Patrick Holohan
2001-02          Ted O'Sullivan
2002-05          Michael O'Keeffe
2005-08          Dr Elizabeth Twohig
2008-09          Liam Ronayne
2009-12           Kevin O'Sullivan
2012-15           Prof. William F. O'Brien
This article is copyright © CHAS 2017