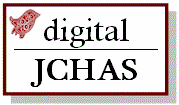 The Society's digitisation project "Digital JCHAS" is now complete. Margaret Lantry has project managed and carried out this project. The Journal of the Cork Historical & Archaeological Society, from 1892 to 2007 inclusive, consists of over 22,000 pages. In addition, the early volumes also includes additional material including:
This additional material added another 3,100 pages to the Digital JCHAS project.
In addition to scanning every page in the 115 volumes published between 1892 and 2007, Margaret also created a 'table of contents' database; this lies underneath the search online that happens using PHP/MySQL. A search of the database shows that there are 5,502 bibliographical items in this period, with a PDF for each these items. Having the database now allows an analysis of authors, for instance: there are over 1,200 author names including items that are initialled. A closer analysis of the database will allow a deeper picture to emerge of publishing in this leading local journal. For the moment here's a bar chart showing the varying size of the Journal since the beginning:
As well as a simple search by title keyword or author, the Indexes of the Journal are now also searchable online.
The Digital JCHAS Project has been funded fully by the Cork Historical & Archaeological Society from its own resources.
This article is copyright © CHAS 2021