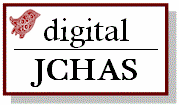 The Journal of the Cork Historical & Archaeological Society has been published since 1892. The Society is now working to make the content available online.
Issues of JCHAS will be added to the online archive as the work of the project continues. The digital archive spanning the period 1892 to 2013 contains approximately 24,000 pages.
At present a simple search interface is being provided. It is envisaged that more sophisticated search tools will be provided when the digital archive is complete followed by improved indexing.
Terms and Conditions
By using the Digital JCHAS and other files database users (you) agree to abide by the Terms and Conditions. This grants a limited license to make use of articles in the digital archive, which includes but is not limited to not copying including but not limited to emailing PDF files or other digital JCHAS files.


About the Journal
Read about the history of the Journal and see some of the advertising from yesteryear …
FAQ
Any questions about accessing the Digital JCHAS?
Q: How do I use Digital JCHAS?
A: Go to the search page and browse the contents of a particular volume to see its contents. Each item has an associated PDF. It is hoped to add more ways of browsing in the future.
Or, you can search using article title keywords and/or author. In the early years many authors may have published under their own name, initials or a pen-name, e.g. R.D. was Robert Day, P.G.L. was Philip G. Lee. A list of authors (including variants) is provided here [work in progress].
When the uploading process is complete, it is hoped that improved search facilities will be provided using the existing indexes. Currently the indexes are searchable as a separate feature.
Q: Which issues will be made available?
A: It is planned that all issues except for those in the ten years preceding the current year will be available online. However, there may be certain exclusions. During the current phase of the digitisation project, issues are being put online when available, so please be patient.
Q: Why is there no PDF link for some articles?
A: If the article is in a volume issued within the ten years preceding publication then that content is not available online. Some authors have requested that their content be excluded from the online Journal project.
Q: Terms and Conditions of Use
A: By using the Digital JCHAS database users (you) agree to abide by the Terms and Conditions: read these here.
Q: How do I reference articles in my own publications?
Users should use the bibliographic information supplied on the front (first) page of each PDF when referencing articles from the Journal.
Progress update
Available online now —
First Series: 1892-1894 (Vols IA-IIIA);
New Series: 1895- (Vol. 1- )
Index: 1892-2005
Table of contents: online volumes and 2006-2014
This article is copyright © CHAS 2022