Terms and Conditions of Use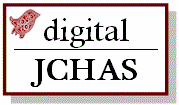 By using the Digital JCHAS database and other files the user (you) agrees to abide by these terms and conditions. This grants a limited license to make use of articles in the digital archive.
The files may not be copied, altered, edited or distributed. The prohibition on distribution includes, but is not limited to, sending files by email or hosting the files where they are available to the public. It is not permitted to link to the Digital JCHAS files from another website or to upload these files to a server. Usage is limited to 'fair use'.
Copyright
Users are reminded that use of the content, whether the database, digital PDF files or print articles, must conform to relevant copyright and intellectual property legislation in accordance with the laws of Ireland and the courts of Ireland. The normal rules of copyright apply to any copying of items in the Journal (no matter whether the content is in print or digital format). Those who wish to reproduce material in any form from the Journal must obtain permission from the author. If the author is deceased less than 70 years, then the legal representatives of his/her estate must be contacted for permission to reproduce. Copyright generally expires 70 years after the author's death. It is the responsibility of those who propose to reproduce material to a) confirm whether the material is still in copyright or not; b) if it is still in copyright, then appropriate permission must be sought.
A policy is being prepared. A list of authors is available that includes information about some contributors to the Journal; this is being updated as and when information becomes available.
This article is copyright © CHAS 2021